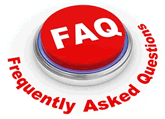 Please try the search engine to answer any question. If you cannot find the answer that way, click on the FAQ logo or try the Contact Us Page to ask your question.
Rules for Vendors
& Commercial Vehicles
Access Rules for Vendors
​
Vendors must use the left lane at the entrance gates, have their driver's license scanned and tell the gate attendant whom they are visiting.
If the vendor needs access for more than one day, he can request a date-defined paper pass. Vendor paper passes must be obtained from the gate attendant. Vendors with paper passes must go through the visitor gate closest to the gatehouse. They may not use the resident gate.
​
Vendors who have continuing need to enter Rosedale to service customer (Continual Vendors) like Federal Express, Amazon or contract landscapers can obtain bar code decals to mount on their windows to speed up entry.
​
Continual Vendors
Regular, that is, continual vendors to Rosedale who wish to use our SR 70 and 44th Avenue entrances are required to have a vendor barcode, which they obtain from RPM. This will enable regular vendors to enter via the residents' gate (the gate furthest from the gatehouse), avoiding the need to stop for each visit and receive a paper entry pass, and decreasing the back-up at the gate. If a vendor chooses not to get a barcode and visits more than one time per week, he may only use the 44th Avenue entrance. Any vendor who uses a gate clicker, or is tailgating or running a gate will be banned from Rosedale for one month.
The gatehouse always allows entry for "Pre-approved Service Providers," e. g. Postal Service, Waste Management and any vendor with more than five customers.
Those contractors who are not regular and do not have a barcode will not be admitted without prior authorization of the adult resident owner or renter via dwellingLIVE.
Hours of Access for Vendors
Vendors are only permitted during the following hours:
Monday through Friday 7 a.m. to 5 p.m.
Saturday 8 a.m. to 5 p.m.
​
Entry for deliveries, inside contract work and estimates are extended until 8 p.m. Monday through Saturday. Landscape companies may have access only up to 5 p.m. due to their noise.
Exceptions for hour restrictions will be made for emergency maintenance/repair issues such as broken water pipe, heating/AC down, broken window in a storm, etc. with resident authorization. Exceptions will also be made for medical professionals who are treating our residents. 911 emergency vehicles, e. g. police, fire, ambulance, rescue, will be admitted immediately and do not require authorization for admittance.
Days of the Week with Access for Vendors
No vendors or construction vehicles are allowed on Sundays and the holidays listed below. Vendor access will be restricted ONLY on the actual calendar date of the holiday and not any date before or after the actual date.
​
New Year's Day

Memorial Day

July 4th Independence Day

Labor Day

Thanksgiving Day

Christmas Day
The same exceptions listed above for hours will apply.
​
12/16/2021